Elizabeth Sullivan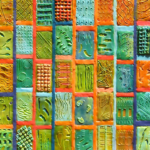 Elizabeth Sullivan hopes to inspire her viewers to see things differently. Whether in her Ornament Series, inspired by the interaction between modern financial symbols and traditional designs of different cultures, or her Landscapes, inspired by the spirit of the place — the viewer is invited to think about everyday places and experiences in a new light. Although painted in an abstracted style, her work is firmly grounded in daily reality, be it the financial transactions of the world stock markets or the beauty of a farm field in late fall twilight.
Elizabeth has recently completed a new series in Encaustics, an ancient medium where the artist melts beeswax and combines it with pigment to obtain the various colors. Encaustic works have a translucent quality and the wax medium provides a beautiful texture and glow (encaustic colors are completely lightfast, and the finished works require no special care or treatment).
Elizabeth has studied at the Corcoran School of Art in Washington, DC and the Museum School in Boston, MA. She currently lives in Maryland, and her work is in various private and public collections including Royal Caribbean Cruise Lines and the Washington International Energy Group.